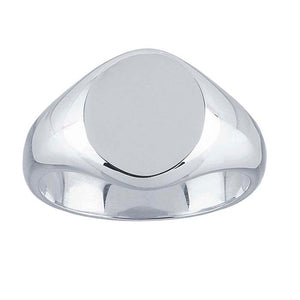 This sterling silver 11 x 9mm oval signet ring allows you to engrave a word or initials. The shank tapers to 3.2mm making it comfortable to wear. The signet on this ring is solid.

Signet rings carry a history that goes back thousands of years to a time when a signet bore the mark of authority or conveyed status and was used in place of a handwritten signature. Today, a signet ring still conveys symbols unique to its wearer and makes an ideal gift to mark special accomplishments or achievement.
 Specifications:
Band/shank width : 3.5mm
Signet plate size : 11 x 9mm
Available in sizes 4 through 12. Please select the size before adding to your cart.

If you would like to engrave a word or initials on this ring, please e-mail me kitty@kittyskarats.com to set that up after making your purchase. Engraving fee is based on how many letters and font style. This normally ranges from $25-$40 and will be invoiced after we finalize the engraving details. 
**Depending on if it is in stock already, plus engraving, this may take 2-5 weeks for delivery.